---
Gr8 Multiple Search Engine Script
Start your own search engine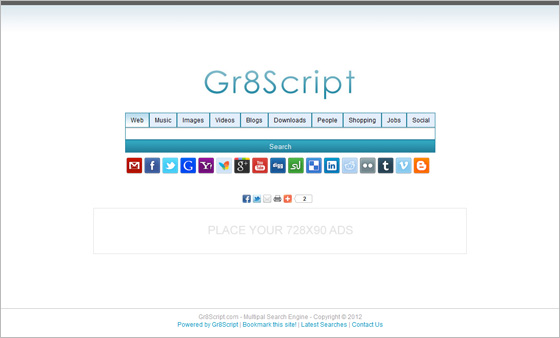 Gr8 Multiple Search Script allows you to search same keyword in multiple sites on single window you don't need to open all sites just using tabs you can search your keywords. Category base sites so you can search web, videos, images, blogs, music, downloads, shopping, social bookmark etc. you can add/edit/delete new category & sites as you need using admin area. Adsense ready you can add your Ads code from admin & earn money. also auto complete your keywords, SEO Friendly etc...
Price: $99 (Single License)
---
2leep Clone Script
Wahoha, Mgid, Zaparena, 2leep Clone Script


2leep Clone Script is Traffic exchange script which is similar to the sites like wahoha.com, 2leep.com, mgid.com and zaparena.com.

Price: $99 (Single License)
---
Groupon Clone Script
Start your own website like Groupon, Snapdeal, Taggle, DealsAndYou etc.
Groupon Clone Script is a clone of Groupon. start your own group buying website like groupon.com, Very easy to start, full support, Free Installation on your server, Hosting provided as per your requirement.

Price: $199 (Single License)
---
Gr8 Tutorial Script
Start your own tutorial site like good-tutorial or tutorialized
Gr8 Tutorial Script is a clone of good-tutorial.com start your own tutorial website like good-tutorial.com, manage tutorial categories and tutorials, manage site from admin area. Adsense ready you can add your Ads code from admin & earn money. SEO Friendly.

Price: $65 (Single License)